召集中
Lunar New Year at Dr. Sun Yat-Sen
本站组织 于2023年01月18日发起 距报名截止还有0天报名已截止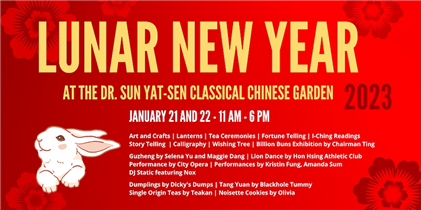 0人已报
活动时间2023-1-21
活动团长亿度传媒 Lunar New Year at Dr. Sun Yat-Sen报名参加
活动介绍
During this festive time admission to the Garden is on a "by donation". The different pricing tiers were created to provide an opportunity so that everyone can join us.
5(five) year old children or younger enter for free.
Chinese New Year, also known as Lunar New Year or Spring Festival, is the most important festival in China and a major event in some other East Asian countries and it celebrates the beginning of a new year on the traditional Chinese lunisolar calendar.
Each Chinese year is associated with an animal sign according to the Chinese zodiac cycle. 2023 is the year of the Rabbit, specifically, Water Rabbit, a symbol of longevity, peace, and prosperity in Chinese culture.
This year the Chinese New Year is on January 22nd! Join us during January 21st and 22nd and immerse yourself with an array of performances (including Lion Dance, Guzheng and City Opera Vancouver), Arts & Crafts, activities & activations, delicious food and witness the premiere of a brand new Exhibition by Chairman Ting!
👉 Buy your tickets ahead, to save time and avoid waiting in large lines during our popular annual Lunar New Year festival.
FULL LIST OF ACTIVITIES/PERFORMANCES:
Guzheng by Selena Yu and Maggie Dang (11 am - 1 pm)
Lion Dance by Hon Hsing Athletic Club (1 pm - 1:30 pm )
Performance by City Opera Vancouver (2 pm - 2:45 pm)
Performances by Kristin Fung, Amanda Sum and DJ Static featuring Nox
(3 pm - 5:00 pm )
Story Telling (Keann Suen and Mia Zhou) (11 am - 5 pm )
Tea Ceremonies (Adrian Sinclair and Michael McDonald) (11 am - 5 pm )
Calligraphy (Joie Anyon) (11 am - 6 pm )
I-Ching Readings (Wai Siu) (11 am - 6 pm)
Art and Crafts | Lanterns | Fortune Telling |Wishing Tree Billion Buns Exhibition by Chairman Ting (11 am - 6 pm)
Dumplings by Dicky's Dumps (11 am - 6 pm)
Tang Yuan by Blackhole Tummy (11 am - 6 pm)
Single Origin Teas by Teakan (11 am - 6 pm)
Noisette Cookies by Olivia (11 am - 6 pm)
After our online ticket sales end, there will be a limited number of tickets available at our box office for walk-ins.
*All donations will go toward supporting our Xiao Seniors Program, Traditional Arts Workshops and Educational Programs and our ongoing conservation projects at the Garden. As a registered not-for-profit all Dr. Sun Yat-Sen Classical Chinese Garden revenue goes toward the fulfillment of our mission to bring together cultures and communities through educational and public programs.